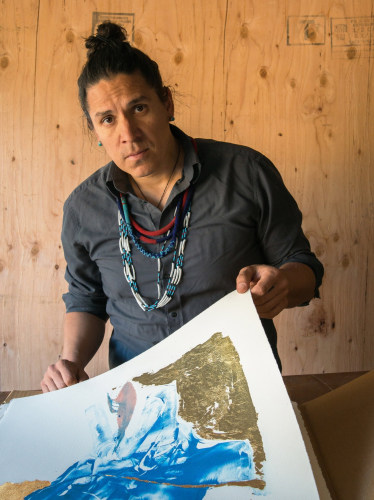 Examining the complexities of contemporary Indigenous identity, culture, and representation, Nicholas Galanin works from his experience as a Lingít and Unangax̂ artist. Embedding incisive observation and reflection into his oftentimes provocative work, he aims to redress the widespread misappropriation of Indigenous visual culture, the impact of colonialism, as well as collective amnesia. Galanin reclaims narrative and creative agency, while demonstrating contemporary Indigenous art as a continually evolving practice. As he describes: "My process of creation is a constant pursuit of freedom and vision for the present and future. I use my work to explore adaptation, resilience, survival, dream, memory, cultural resurgence, and connection and disconnection to the land." Galanin unites both traditional and contemporary practices, creating a synthesis of elements in order to navigate "the politics of cultural representation." Speaking through multiple visual, sonic, and tactile languages, his concepts determine his processes, which include sculpture, installation, photography, video, performance, and textile-based work. This contemporary practice builds upon an Indigenous artistic continuum while celebrating the culture and its people; Galanin contributes urgent criticality and vision through resonant and layered works.

Nicholas Galanin earned a BFA at London Guildhall University (2003), an MFA at Massey University, Palmerston North, New Zealand (2007), and apprenticed with master carvers and jewelers. He currently lives and works with his family in Sitka, Alaska. Galanin participated in Desert X, Palm Springs (2021); Biennale of Sydney (2020); Venice Biennale (2017); Whitney Biennial (2019); and Honolulu Biennial (2019). Galanin's work is in permanent collections including The Museum of Modern Art, New York; Whitney Museum of American Art, New York; Philadelphia Museum of Art; Art Institute of Chicago; Detroit Institute of Arts; The National Gallery of Canada, Ottawa; The Museum of Fine Arts, Houston; Denver Art Museum; Los Angeles County Museum of Art; and Princeton University. He received an award from American Academy of Arts and Letters (2020) and received a Soros Arts Fellowship (2020).

Please contact gallery for full CV and press packet.